Surgery Closure
The surgery will be closed between 12:30 - 16:00 on Tuesday 5th December 2023 for staff training. If you require help suring this time please refer to Opening Hours page.
Welcome to Kelvingrove Medical Centre
Our Mission Statement
'To provide easy access to high quality patient centred care'
We aim to provide all of our patients with a comprehensive range of healthcare services from short term conditions to chronic conditions. Please explore our website and find out how you and your family can benefit from our professional yet personal approach to healthcare provision.
Please see our opening hours when you will be able to contact our friendly reception staff. Check out how to order repeat prescriptions here.
Registering is easy; please contact our friendly Reception Staff.
You can now book appointments online (when available), order repeat prescriptions, update your contact details, view your summary care record and detailed coded record via Patient Access or the NHS App. To get set up please see our Online Services page.
NHS Website is the online 'front door' to the NHS. It is the country's biggest health website and gives lots of information about services, health and wellbeing.
Please click on the link below to be taken to the NHS website
If you are eligible please book via the NHS App or call the surgery. You will also be revieving text invites. Please visit https://www.nhs.uk/conditions/vaccinations/flu-influenza-vaccine/ to see if you are eligible for the vaccine.
Last year 219 vaccines were wasted, help us to help you by coming to the surgery for your flu jab first.
MOL
You can now order your medication through MOL again. Please be aware that the number has changed, the new number is
01246588860 or 0115 855 0260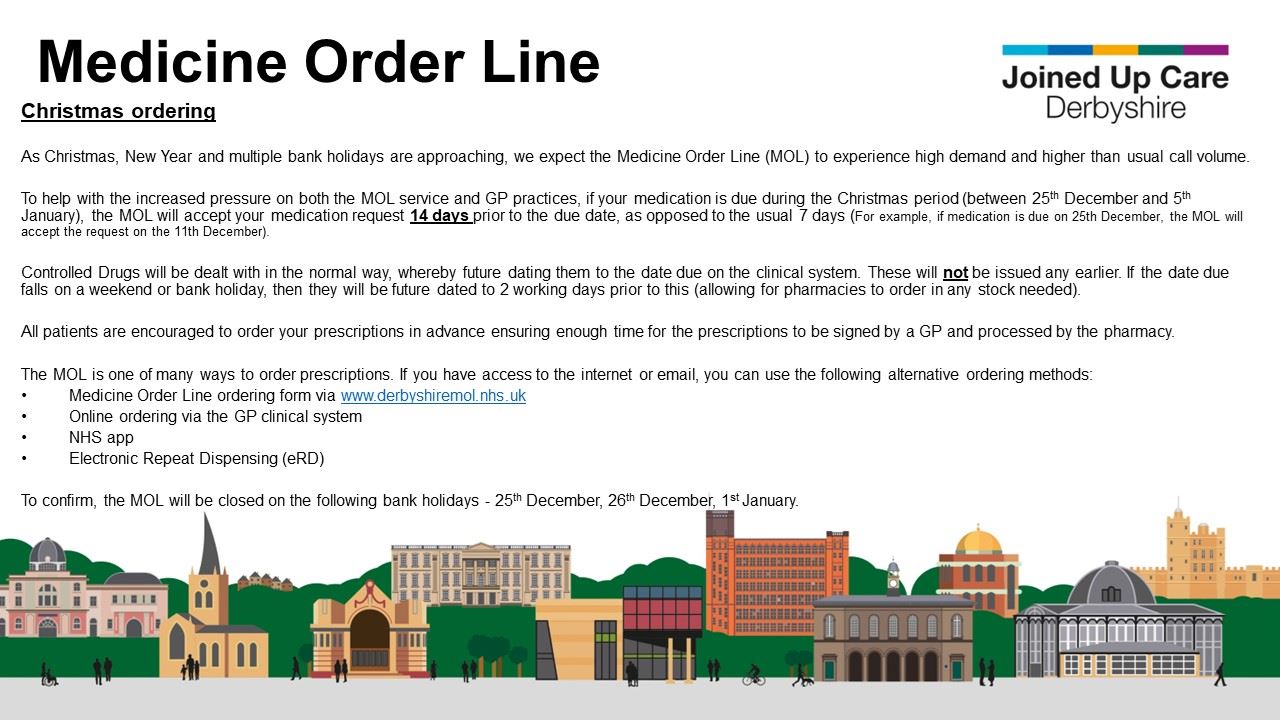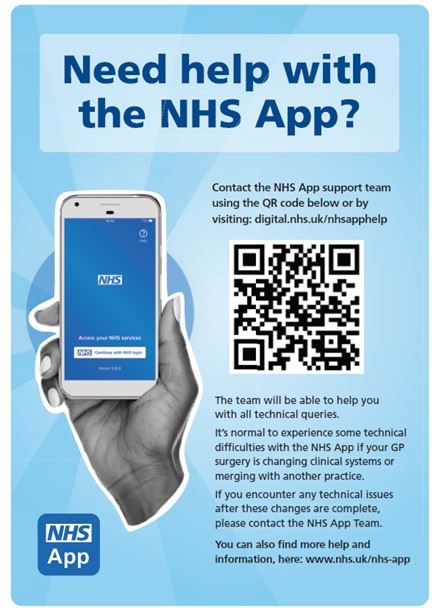 Help Setting Up Your NHS App
Some people have lost their online access. To resolve this please see the NHS App help page, setting the app up again can be done quickly and easily at home. (If the app asks for a linkage key please scroll down until you see the option to complete this with a photo at home)
If you are struggling sign up to the App at home or would like proxy access, please come into surgery with photo ID to fill out an online access request form. (please not access will not be given immediately as out admin team will need to action the request)
Whilst we try our best to help you with setting up the NHS App it is important to remember that here, at the surgery, we cannot help with technical support.
If you need technical support with the app (eg you cannot take a photo of your ID or have forgotten your passsword) contact the NHS App and Account Support Team.
On the page there is lots of useful information around setting up your account and a contact form for more complicated technical issues.
Please still contact the practice if you have any non-technical issues as we may be able to help, for example;
Problems seeing medication
Problems booking appointments
Requesting more access (a separate SARs for may need to be filled out for this)
Gaining Proxy access to another person's records
Incorrect information recorded on the App
Any clincial questions
Please note that to gain a Linkage Key you will need to provide photo ID (or have a member of staff vouch for your identity). This applies even if you have had access previously. This is due to the amount of information that can be accessed through the App.
*Important Notices*
Surgery Closures
The surgery will be closed on the following dates due to staff training:
18th July 2023 at 1:00pm - 4:00pm
19th July 2023 at 12:30pm - Close
20 September 2023 from 12.30pm - Close
18 October 2023 from 12.30pm - Close
15 November 2023 from 12.30pm - Close
There are still some clinics taking place. Therefore if you have an appointment already booked please attend as normal.
Named GP Notice
Due to the retirement or Dr Mellor, we have reallocated his patients to the remaining GP Partners;
Dr Reid
Dr Magowan
Dr Ashida
Dr Augustine
This will not affect your care and you can still see any of our GPs as normal. If you would like to know who your named gp is, please get in touch via patient triage, the NHS App or phone.
For more information on what a named gp is please see our Practice leaflet.